(Click on the news release to view larger writing)
"Connecticut Department of Public Health confirms four cases of Powassan virus infection this year. This emphasizes the importance of taking actions to protect yourself from tick bites."
Tips for preventing tick bites
Avoid areas where ticks are likely to be, such as in in grassy, brushy, or wooded areas. Ticks are active from spring to fall and may also be active on warmer days during winter.
Consider the use of CDC-recommended mosquito/tick repellents, containing DEET, picaridin, oil of lemon eucalyptus, IR3535, or 2-undecanone, and apply according to directions, when outdoors. However, repellents containing >30% DEET have been reported to be the most effective.
Check yourself, your children, and your pet animals for ticks immediately after coming indoors. Showering within two hours of coming indoors may be effective in reducing the risk of tick-borne disease.
Examine clothing and gear carefully after coming indoors. Tumble dry clothing in a dryer on high heat for at least 10 minutes to kill ticks that were carried inside.
Talk to your veterinarian about the best tick prevention products for your dog.
Consider treating items such as boots, clothing, and hiking or camping gear with products containing 0.5 percent permethrin.
**************************************************************************************************
**************************************************************************************************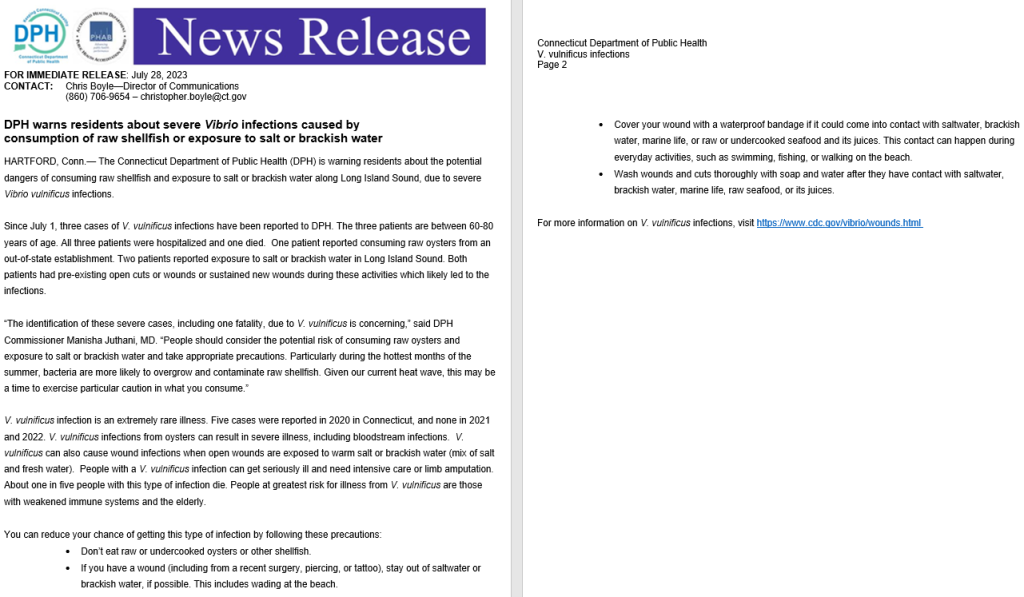 **************************************************************************************************
**************************************************************************************************
Fish Consumption Advisories: The Connecticut Department of Public Health issues a yearly advisory for reducing fish consumption when chemical levels in fish tissue are unsafe. These advisories are necessary to protect public health while allowing for community members to benefit from the nutritional benefits of eating fish. Fish from Connecticut waters are a good, low cost source of protein. Unfortunately, fish can build up chemicals in their bodies such as mercury and polychlorinated biphenyls (PCBs) that may be contaminants in the water. Eating these fish may affect your family's health. Advisories, fact sheets and additional information is available on the following CT DPH web link: https://portal.ct.gov/fish As a result of recent sampling for perfluoro octane sulfonic acid (PFOS), the following chart outlines the new Fish Consumption Advisory. For more information on PFOS, check out the following link from the CT DPH: https://portal.ct.gov/DPH/Environmental-Health/PFAS/PFAS